「チューン・ウォリアー」
YSD5-JP001 Tune Warrior
「ウォーター・スピリット」
YSD5-JP002 Water Spirit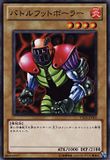 「バトルフットボーラー」
YSD5-JP003 Battle Footballer
「ギガ・ガガギゴ」
YSD5-JP004 Giga Gagagigo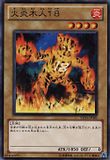 「火炎木人18」
YSD5-JP005 Blazing Inpachi
「ラピッド・ウォリアー」
YSD5-JP006 Rapid Warrior
[Super Rare]
WIND/Warrior - Effect/4/1200/200
Activate only during your Main Phase 1. During this turn, this card can attack your opponent directly. During the turn you activated this effect, other monsters cannot attack.
「シンクロン・エクスプローラー」
YSD5-JP007 Synchron Explorer
[Super Rare]
EARTH/Machine - Effect/2/0/700
When this card is Normal Summoned successfully, you can Special Summon 1 "Synchron" Monster from your Graveyard. The effect(s) of an Effect Monster Special Summoned by this effect is negated.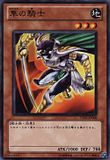 「隼の騎士」
YSD5-JP008 Hayabusa Knight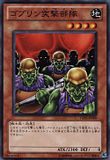 「ゴブリン突撃部隊」
YSD5-JP009 Goblin Attack Force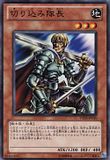 「切り込み隊長」
YSD5-JP010 Marauding Captain
「赤い忍者」
YSD5-JP011 Crimson Ninja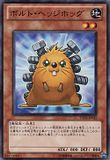 「ボルト・ヘッジホッグ」
YSD5-JP012 Bolt Hedgehog
「ターレット・ウォリアー 」
YSD5-JP013 Turret Warrior
「ハイパー・シンクロン」
YSD5-JP014 Hyper Synchron
「レベル・ウォリアー」
YSD5-JP015 Level Warrior
「荒野の女戦士」
YSD5-JP016 Warrior Lady of the Wastelands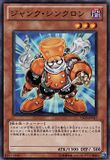 「ジャンク・シンクロン」
YSD5-JP017 Junk Synchron
「スピード・ウォリアー」
YSD5-JP018 Speed Warrior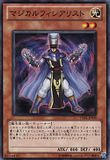 「マジカルフィシアリスト」
YSD5-JP019 Magical Ficialist
「パワード・チューナー」
YSD5-JP020 Powered Tuner
「ハーフ・シャット 」
YSD5-JP021 Half Shut
Quick-Play Magic Card
Activate by selecting 1 face-up monster on the field. The selected monster cannot be destroyed by battle during this turn, and its ATK is halved until the End Phase of this turn.
「増援」
YSD5-JP022 Reinforcements of the Army
「戦士の生還」
YSD5-JP023 The Warrior Returning Alive
「勇気の旗印」
YSD5-JP024 Banner of Courage
「エネミーコントローラー」
YSD5-JP025 Enemy Controller
「ハンマーシュート」
YSD5-JP026 Hammershoot
「死者転生」
YSD5-JP027 Monster Reincarnation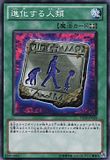 「進化する人類」
YSD5-JP028 Evolving Mankind
「ツイスター」
YSD5-JP029 Twister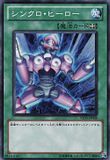 「シンクロ・ヒーロー」
YSD5-JP030 Synchro Hero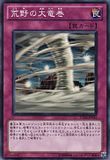 「荒野の大竜巻」
YSD5-JP031 Big Tornado of the Wastelands
Normal Trap Card
Destroy 1 face-up card in the Magic or Trap Cards Zone. After the destruction, the controller of that destroyed card can set 1 Magic or Trap Card from their hand. When this set card is destroyed, you can destroy 1 face-up card on the field.
「砂塵の大竜巻」
YSD5-JP032 Dust Tornado
「落とし穴」
YSD5-JP033 Traphole
「マジック・ジャマー」
YSD5-JP034 Magic Jammer
「サンダー・ブレイク」
YSD5-JP035 Thunder Break
「仕込みマシンガン」
YSD5-JP036 Secret Barrel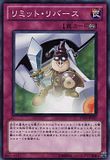 「リミット・リバース」
YSD5-JP037 Limit Rebirth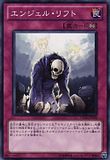 「エンジェル・リフト」
YSD5-JP038 Angel Lift
「ガード・ブロック」
YSD5-JP039 Guard Block
「くず鉄のかかし」
YSD5-JP040 Scrapiron Scarecrow
「ジャンク・デストロイヤー」
YSD5-JP041 Junk Destroyer
[Ultra Rare]
EARTH/Warrior - Synchro - Effect/8/2600/2500
"Junk Synchron" + 1 or more Non-Tuner monster
When this card is successfully Synchro Summoned, you can select and destroy a number of cards on the field up to the number of Non-Tuner monsters used as Synchro Material for the Synchro Summon of this card.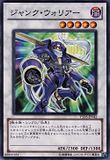 「ジャンク・ウォリアー」
YSD5-JP042 Junk Warrior
「大地の騎士ガイアナイト」
YSD5-JP043 Knight of the Earth - Gaia Knight
Manjyome Thunder - 23. Mar, 06:49