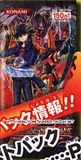 Duelist Pack -Yusei 2 - 「遊戯王ファイブディーズOCG デュエリストパック -遊星編2-」
Release: 17th October 2009
Price: 150 Yen per Pack
15 Packs per Box
5 cards per Pack + Strategy Guide
- Includes cards used by Yusei Fudo
- Includes new cards
Rarity list:

Ultra Rare Cards
(2)
DP09-JP013 Gauntlet Warrior
DP09-JP016 Junk Archer
Super Rare Cards
(4)
DP09-JP001 Stardust Dragon/Buster
DP09-JP014 Eccentric Boy
DP09-JP029 Forced Termination
DP09-JP030 Tuner's Barrier
Rare Cards
(7)
DP09-JP002 Road Synchron
DP09-JP003 Turret Warrior
DP09-JP006 Rockstone Warrior
DP09-JP009 Max Warrior
DP09-JP015 Road Warrior
DP09-JP026 Skill Successor
DP09-JP0(??)
---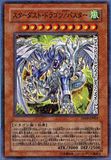 「スターダスト・ドラゴン/バスター」
DP09-JP001 Stardust Dragon/Buster
[Super Rare]
「ロード・シンクロン」
DP09-JP002 Road Synchron
[Rare]
「ターレット・ウォリアー」
DP09-JP003 Turret Warrior
[Rare]
「デブリ・ドラゴン」
DP09-JP004 Debris Dragon
「ハイパー・シンクロン」
DP09-JP005 Hyper Synchron
「ロックストーン・ウォリアー」
DP09-JP006 Rockstone Warrior
[Rare]
「レベル・ウォリアー」
DP09-JP007 Level Warrior
「救世竜 セイヴァー・ドラゴン」
DP09-JP008 Salvation Dragon Savior Dragon
「マックス・ウォリアー」
DP09-JP009 Max Warrior
[Rare]
「クイック・シンクロン」
DP09-JP010 Quick Synchron
「レベル・スティーラー」
DP09-JP011 Level Stealer
「ゼロ・ガードナー」
DP09-JP012 Zero Gardna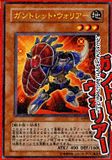 「ガントレット・ウォリアー」
DP09-JP013 Gauntlet Warrior
[Ultra Rare]
EARTH/Warrior/3/400/1600
Activate by Releasing this card. All face-up Warrior-Type monster you control gain 500 ATK and DEF until the end of the next Damage Step they battle. This effect can also be activated during your opponent's turn.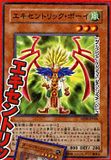 「エキセントリック・ボーイ」
DP09-JP014 Eccentric Boy
[Super Rare]
WIND/Spellcaster - Tuner/3/800/200
If this card is used as Synchro Material, the other Synchro Material monster must be 1 monster from your hand. A Synchro monster summoned with this card as Synchro Material cannot activate its effect(s) and has them negated, and when it is removed from the field, it is removed from play.
「ロード・ウォリアー」
DP09-JP015 Road Warrior
[Rare]
「ジャンク・アーチャー」
DP09-JP016 Junk Archer
[Ultra Rare]
EARTH/Warrior - Synchro/7/2300/2000
"Junk Synchron" + 1 or more Non-Tuner monsters
Once per turn, activate by selecting 1 monster your opponent controls. The selected monster is removed from play. The monster removed by this effect returns to you opponent's field in the same Battle Position it was removed in during the End Phase of this turn.
「プリベント・スター」
DP09-JP017 Prevent Star
「ワン・フォー・ワン」
DP09-JP018 One for One
「拘束解放波」
DP09-JP019 Restraint Release Wave
「白銀の翼」
DP09-JP020 Silver Wings
「アドバンスドロー」
DP09-JP021 Advance Draw
「バスター・モード」
DP09-JP022 Buster Mode
「スピリット・フォース」
DP09-JP023 Spirit Force
「ロスト・スター・ディセント」
DP09-JP024 Lost Star Descent
「奇跡の軌跡」
DP09-JP025 Miracle Locus
「スキル・サクセサー」
DP09-JP026 Skill Successor
[Rare]
「トゥルース・リインフォース」
DP09-JP027 Truth Reinforce
「スリップ・サモン」
DP09-JP028 Slip Summon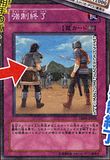 「強制終了」
DP09-JP029 Forced Termination
[Super Rare]
Continuous Trap Card
By sending 1 other card you control to the Graveyard, end the Battle Phase of this turn. This effect can only be activated during the Battle Phase.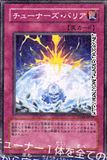 「チューナーズ バリア」
DP09-JP030 Tuner's Barrier
[Super Rare]
Normal Trap Card
Activate by selecting 1 face-up Tuner you control. Until the End Phase of the next turn, it cannot be destroyed by battle or by card effects.